LOS ANGELES, CA - FEBRUARY 12: Rapper/singer Nicki Minaj performs onstage at the 54th Annual GRAMMY Awards held at Staples Center on February 12, 2012 in Los Angeles, California. (Photo by Kevin Winter/Getty Images)
Despite some high-profile names on this weeks list of new CD releases, there's not much worth actually buying.  One high mark of the week, the much awaited debut full-length by Icelandic band "Of Monsters And Men."
"Dedicated" by Wilson Phillips featuring songs made famous by their parents' groups.  Chynna Phillips of course  is the daughter of John and Michelle Phillips of The Mamas & The Papas while Carnie and Wendy Wilson are the daughters of Brian Wilson of The Beach Boys.  Beach Boys songs on the disc include "California Dreamin'", "Wouldn't It Be Nice", "Good Vibrations", and "Fun Fun Fun").  Mamas and the Papas (songs include "Monday Monday", "Don't Worry Baby", and "Dedicated to the One I Love".
If You Only Download One Song:  Don't.
Hot Fire Of Truth:  In a way, I envy Papa John Phillips & Mama Cass:  They don't have to actually hear this album.  They are dead.  If you like when people over-sing at karaoke, you'll love this album.  Note to the WP ladies- your pop turn in the 80's was nice.  You had a catchy song or two.  Go do something else now.
"Hit Me Like a Man" The Pretty Reckless an EP from the band fronted by former "Gossip Girl" star Taylor Momsen.
If You Only Download One Song:  Title track "Hit Me Like A Man" has some good sounding guitars and the lyrics are just the kind of thing that girls like to sing along with after they've had an apple-tini or two.
Hot Fire Of Truth:  While Momsen has a great set of pipes and the guitars on this EP sound great the overall production is a bit heavy handed and the song-writing leaves me totally flat.  Also, there are two "Live" tracks that I suspect aren't actually live, but rather have audience sounds dubbed in.
"Love Stories & Other Musings", Candlebox . Nine new tracks plus five re-recorded hits including "Far Behind".
If You Only Download One Track:  It's a tie between two tracks "She Come Over Me" and "Turn Your Heart Around".  They will both prob end on a Rom/ Com soundtrack later this year.
Hot Fire of Truth:  After 20 years of doing it Seattle rockers Candlebox know what they are capable of.  This is a solid album with decent songwriting and enough tweaks on the standard rock formula to make it interesting.  While I understand that the re-recording of a few of their classic 90's tunes may incite new fans to buy the album, this disc holds it's own without marketing tricks.  The real question is will today's rock audience respond to a band who basically fell off the radar for a long time?
"Pink Friday:  Roman Reloaded", Nicki Minaj.  It includes her new singles "Starships" and "Right By My Side".
If You Only Download One Song:  Va Va Voom.  It's got a way better groove than the singles.
Hot Fire of Truth:  I'll confess to not being a huge Nicki fan.  But it's because I'm not sure who she is musically; she at times sounds like she's trying to hard to be some one else.   Sometimes, Madonna, sometimes Kanye, sometimes it's some one else altogether.  This isn't a bad disc in any way, and for one album it has a ton of music on it.  But besides "girl with ever-changing hair color" I still feel like Ms. Minaj is in an identity crisis.

"Thick as a Brick 2", Ian Anderson from Jethro Tull . This is a sequel to Jethro Tull's "Thick as a Brick", which came out in 1972.
If You Only Download One Song:  trick question sorta…
Hot Fire Of Truth:  I'm not sure I could explain this to you even if I wanted to, which I don't.  If you're a Tull fan, you'll probably buy this and claim to like it even though we both know you'll be lying.  If you're not a Tull fan this won't turn you into one.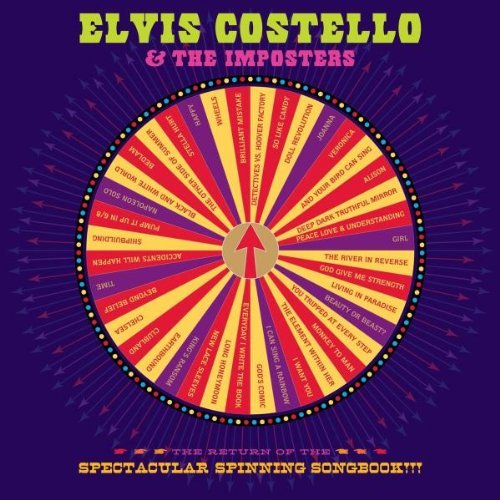 "The Return of the Spectacular Spinning Songbook!!!", Elvis Costello & the Imposters .  3 disc LIVE set CD+DVD recorded in LA last summer over 2 nights.
If You Only Download One Song:  Watching The Detectives, a really raw version I like better than the original.
Hot Fire of Truth:  Elvis Costello pains me greatly.  I really WANT to like his music.  But I've never really connected to most of it.  Combine that with the fact that he seems at times to be more interested in being "artsy" than in making art and that smarmy British thing he's got going on and he just loses me.  BUT this disc is GREAT.  It's got a live energy that I love from the band and sound quality for a live recording that I think is truly remarkable.  Even if you own all of this in it's original format, buy this you'll like it better.
"My Head Is an Animal", Of Monsters And Men
If Yon Only Download One Song:  You're missing out.  Download the whole thing.
Hot Fire Of Truth:  After winning the nationwide 2010 battle-of-the-bands competition Musiktilraunir in their native Iceland, six-piece chamber pop group Of Monsters and Man were hailed as "the new Arcade Fire" in Rolling Stone magazine.  At first I had dismissed them as "This Years Mumford & Sons" , but I stand corrected.  This album vacillates emotionally between moments of heart ache and moments of triumph, but the result is joy for the listener.  Buy this now and learn about the band, that way in 3 months when they are the biggest act in the world you'll be way cooler than all your friends.
Comments (2)
More From HFS at 104.9 - Baltimore's Rock Alternative